Kaiseki Ryori is the ultimate form of Japanese dining experience.
There are two ways to write Kaiseki. 懐石 and 会席. '懐石 Kaiseki' translates to "stone in stomach," from origin of buddhist monks to put warm stones in their robes during ascetic practice outdoors.
Over a thousand years ago, the tradition of '精進料理 Shojin-Ryori' (monks' vegan cuisine,) evolved into the tea ceremony,
incorporating '懐石料理 Kaiseki-Ryori' (often called 茶懐石 Cha-Kaiseki, meaning tea kaiseki, to differentiate.) Typically, it is a simple meal served before a tea ceremony, consisting of rice, soup, and a few side dishes.
'会席Kaiseki,' which we serve at the Rose Room,
translates to "gathering seats." This newer concept started toward the end of 18th century (Edo period,) as tea ceremony evolved and made available for the general population, and the purpose of the meal had shifted from ceremonial to celebratory. A typical meal comes in many courses, featuring seasonal ingredients, often enjoyed with saké. We set the menu to the Post Modern Meiji era, when Japan started to import goods from Europe and America.
Now for the first time we will be serving Kaiseki exclusively for 10 guests in the Rose Room, curated by our chef Takashi Yamamoto
We will be serving Kaiseki exclusively at the Rose Room Starting January 4th 2019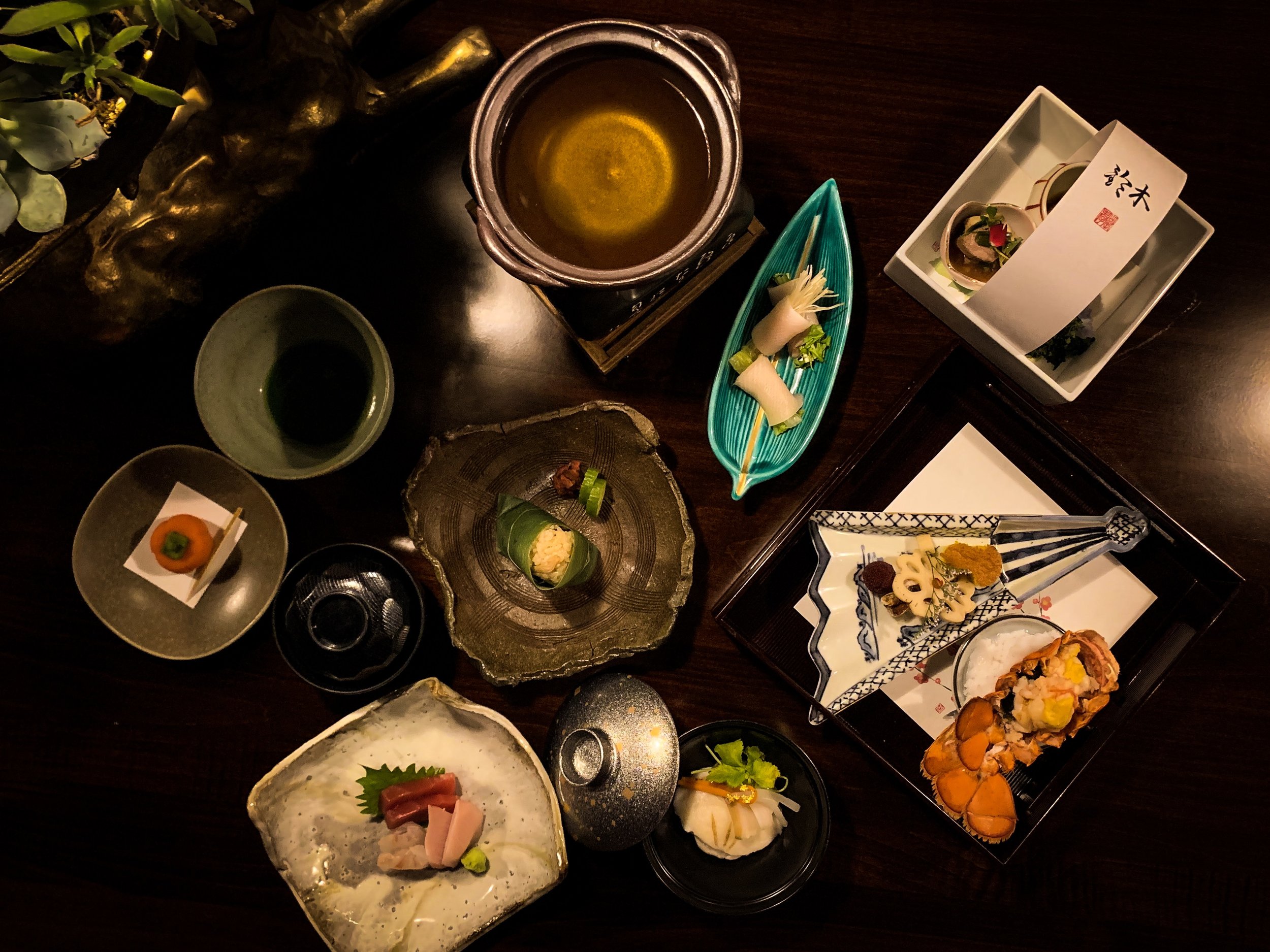 seating times
5:30pm to 8pm limited seatings from Monday thru Saturday

guest requirements
Courses are based on season and chefs omakase
If you have allergies, please let us know as soon as you make your reservations.
Depending on the severity, we may not be able to accommodate you.
*we will not be able to accommodate guests with allergies on the day of reservations, as courses are made to order

Reservations
Advanced reservations will start on December 17th
By appointment only.
For reservations, please use the contact us below for emails
or
guests can call us at 212.278.0010
*Reservations are required 24hours in advance.

Reservations for our S U Z U K I KAPPO ALaCarte dining please visit Suzuki.nyc
Reservations for our SATSUKI Omakase Sushi Bar please visit Satsuki
If you have issues with reservations or have questions in regards, please feel free to contact us
Rose Room Kaiseki is located within S U Z U K I NYC
114W47th street, NY. 10036
212.278.0010